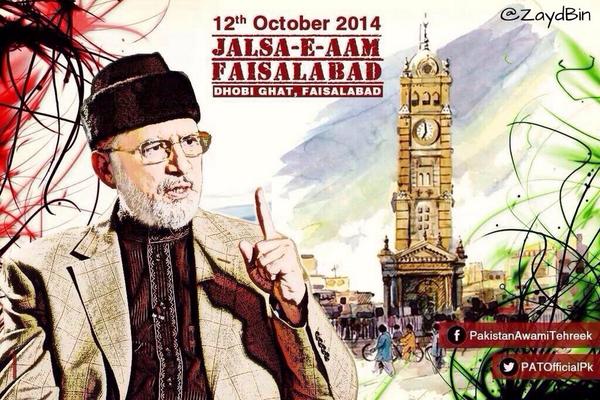 ISLAMABAD: Following Pakistan Tehreek-i-Insaf's (PTI) drift from the red zone, Pakistan Awami Tehreek (PAT) chief Tahirul Qadri on Sunday hinted at taking his party's 'Inqilab March' to other parts of the country, saying that his party "never believed in protests sitting at one place".
"A revolution has different phases," Qadri said adding, "It is a continuing process. Our first stop is Faislabad."
Giving today's rally the title of 'Inquilab in Faisalabad', Qadri said the day would prove that the Islamabad sit-in has been successful. He did not elaborate as to how this success would be proven.
"We want to change the system, we had been suffering atrocities for more than 65 years," he said.
"The [Faislabad] rally will prove that the status quo cannot survive, corruption cannot survive and we will achieve Quaid-i-Azam's lost Pakistan."
While the PAT chief termed the Islamabad sit-in as a 'strong foundation', he urged his supporters to start building out from there.
The firebrand cleric lamented the corrupt practices in the country and also congratulated media outlets for continuous coverage of the sit-in.
Know more: After 59-day stay outside parliament, Qadri heads for Faisalabad
"Media needs to be freed. I commit to make Institutions like Pemra and others independent so that the government cannot use them for their own gains," he said.
The PAT chief asked his supporters 'to wait a little more' for the revolution.
"Where you have waiting this long, it's only about a few days more," Qadri promised.
Breaking his 59-day streak of being camped out on Constitution Avenue, the PAT chief had announced from atop his container on Saturday, "I am going to address the public gathering in Faisalabad, while the sit-in will continue until revolution comes."
Qadri had also warned the the government to be prepared to face a major reaction if they took any action against the participants of the sit-in in his absence.