LAHORE: At least five people were killed on Saturday in rain-related incidents in different parts of Punjab, Rescue 1122 said, taking the total number of deaths across the province in the last 72 hours to 115.
Today, a father and daughter were killed when the roof of a house collapsed in Lahore's Sabzazar area.
In the Pasroor area of Sialkot, three people including a woman and a child died and, two others were injured when the roof of the house caved in.
In Narowal, a young girl died in a similar incident.
A government official earlier today confirmed that 110 people have died across the country in heavy monsoon downpours and flooding.
Almost the entire city of Lahore is submerged by rainwater, which exceeds the draining capacity o f the city.
Rain-generating monsoon system weakened, says Met dept
The Pakistan Meteorological Department said the rain-generating well-marked low pressure area over west Rajasthan (India) had weakened and moved to Indian Punjab.
The contributing moist current from the Arabian Sea also lost its strength. The system is likely to dissipate by Sunday. But before that it was expected to produce another round of widespread rain, with isolated heavy falls over upper catchments of Jhelum, Chenab, Ravi and Sutlej rivers, along with Rawalpindi, Gujranwala and Lahore divisions.
Reports from different parts of the country indicated huge losses to property, cattle and crops, especially in Sialkot and Gujranwala regions, due to swelling of nullahs and exceptionally high flood in Chenab and Jhelum rivers.
In Lahore and Kasur, people were worried about the swelling of Ravi and Sutlej rivers, despite consolation by the Met department that there was no such threat for now.
Before the system causing heavy downpour dissipates by Sunday it is expected to produce another round of widespread rain, with isolated heavy falls over upper catchments of Jhelum, Chenab, Ravi and Sutlej rivers, along with Rawalpindi, Gujranwala and Lahore divisions.
Read more: Is Pakistan ready for a monsoon catastrophe?
Scores of people have been killed in Punjab, Azad Kashmir, Gilgit-Baltistan and Khyber Pakhtunkhwa due to the heavy torrential rain since Thursday. A number of cities have received over 130mm of rain and the National Disaster Management Authority has said it expects "exceptionally high flooding" in the Chenab and Jhelum rivers over the next few days.
A high-intensity, late monsoon such as this is becoming a pattern now but according to experts the country is yet to learn from recent disasters.
"Earlier we would have well distributed rains during the monsoon season. Now thanks to climate change, the monsoon is becoming more erratic. This season the rainfall was largely below normal and now at the end of the monsoon we have a strong system with high intensity rainfall which is causing destruction," explains Dr Qamar-uz-Zaman Chaudhry who has recently been appointed Special Envoy of the UN-World Meteorological Organisation on Disaster Risk Reduction and Climate Services for Asia.
Chaudhry is the former Director-General of the Pakistan Meteorological Department and also the lead author of Pakistan's National Climate Change Policy (NCCP).
Youngsters crossing the flooded Lakshami Chowk on LPG cylinder after heavy rain
"The NCCP had called for an improvement in flood forecasting systems across the country," he points out.
"It had also called for the increased capacity of storm drainage systems in urban areas in expectation of the increased intensity of rainfall events."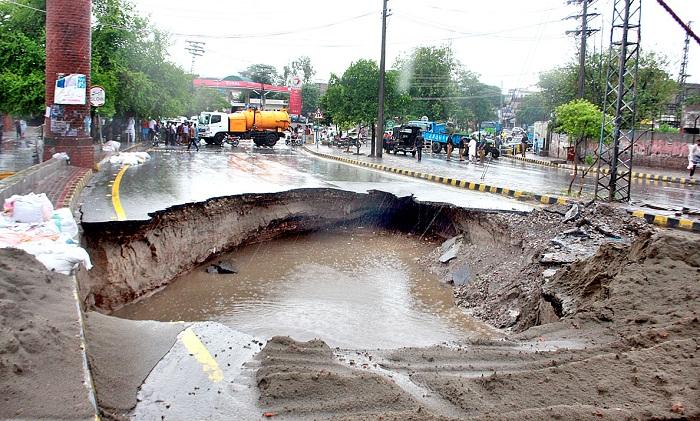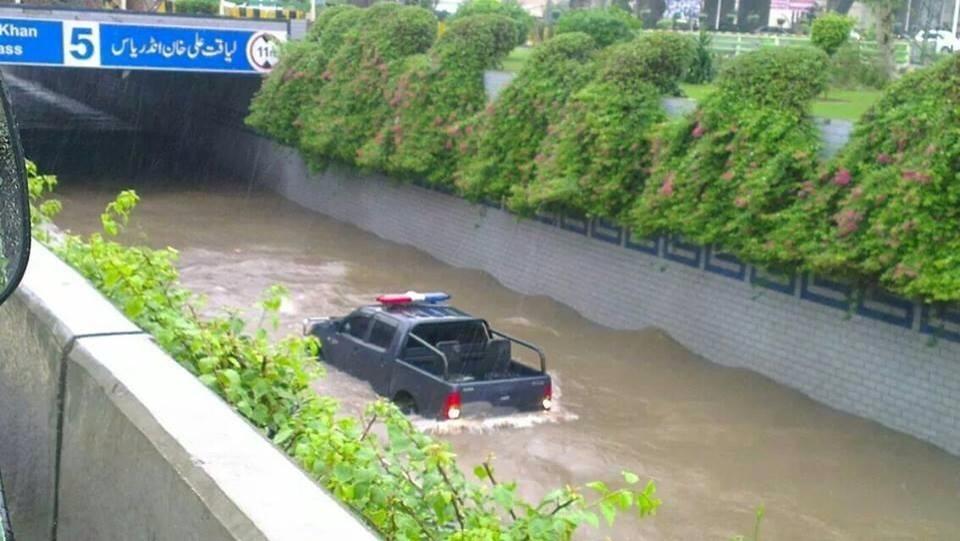 Unfortunately, the comprehensive NCCP that was launched by the PPP government in February 2013 has now been shelved. Shortly after coming to power in the May 2013 general elections, the PML(N)-led government demoted the Ministry of Climate Change to a Division and slashed its budget. The national action plan to implement the NCCP in consultation with all the provinces and regions was never initiated in earnest.
According to Chaudhry, the NCCP was not being implemented simply because climate issues ranked very low on the country's priority list.